Prepare for the ACT with our Free Checklist!
Use this checklist to organize your test prep and improve your score!
The best way to get a great score on the ACT is to have a strong game plan when you begin studying. Our checklist walks you through important steps to understand your strengths and weaknesses in order to create a strong study plan.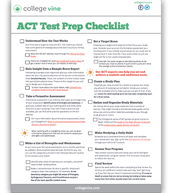 It's perfect to keep in your study binder or to use on your computer!
In this guide you will find:
Best practices for organizing your study materials.

Expert tips on what to do while studying up until test day.

The best resources to help you prepare for the test.
From creating a study guide to finding the right study material to use — all the way to what to do the night before — this checklist will help you prepare to excel on the ACT!
Download our checklist today and start studying for the ACT the CollegeVine way!